Succulent and tender pork back ribs! The aroma of grilled lemongrass and garlic is so enticing it will make your mouth water! Finger-lickin' good!
Grilled or BBQ ribs remind me of cottage vacations and summer time. It's a must-have meat dish for this time of year.  There's something about smelling that delicious smokey aroma wafting across your deck and into the woods, don't you think? Even if it's just a backyard grill, it will leave a lasting reminiscing aroma of thriving hot summer weather barbecues. Over time, I have grilled plenty of ribs with many different marinades. This particular one is vietnamese influenced thanks to the lemongrass and garlic flavour. Give it a try for your next bbq dinner if you're bored with bottled BBQ sauce!
*Good To Know*
What type of Grill should I use?
You can use your oven, barbecue or even air fryer (with grill feature). I used my indoor grill (since it was a rainy day).
What is silverskin and why do I need to remove it?
It is the white membrane or connective tissue on the bone-side of the ribs. You don't have to remove it but it will result in a less flavourful texture since this tissue does not soften during grill time. Instead, it becomes tough and chewy in texture. If the entire rack of ribs is grilled whole, the connective tissue curls the rack. By removing the silverskin, it ensures the ribs grill nice and flat.
How long should I marinate the meat for tenderness?
Minimum 2 hours but as long as up to 24 hours (or if you like to prepare well ahead, you can freeze up to 4 months and thaw it in the fridge while it continues to marinate). The apple juice in this recipe will help break down the meat to soften it for juicy tenderness. Another tip is to grill your meat to an internal temperature of 195°F (90.6°C). Note that ribs are fully cooked at an internal temperature of 145°F however, at this point the meat is not rendered soft yet. To get a juicy tender bite, cook to internal temperature of 195°F.
What is lemongrass and where can I find it?
Fresh lemongrass looks like a stalk with long grass blades and is also known as barbed wire grass (because of its harmless 'razor' like grass blades). Its scent can be described as a pleasant citrus scent, similar to a mix of ginger, mint and lemon. It's a common herb used in vietnamese or thai cooking. Lemongrass can be purchased fresh or frozen (minced & whole).
Using frozen minced lemongrass is preferred for the purpose of convenience. You can mince fresh lemongrass if that's what you prefer (or if you can't find it in the frozen aisle). To learn how to mince fresh lemongrass, check out my how-to section here.
What is Fish Sauce? How to choose a good one?
These days, fish sauce seems to be a well-known condiment and is a go-to staple in asian cuisine. It's made with anchovies (or squid) that have been covered in salt/ water and fermented in wooden barrels for a couple of years. By doing so, the umami taste you get in the fish sauce is what brings out a different note of salty / earthy flavour in a dish and is uniquely delicious! Some may not be fond of its distinct 'fishy' or pungy smell, but once cooked, the flavour is more prominent than the smell. It may be tempting to buy fish sauce that is cheap in price, however, I recommend buying fish sauce at a mid to premium price for better quality. Choose fish sauce bottled in glass (not plastic) and one that has been imported from Vietnam ( if it says "Phu Quoc" or made in "Phu Quoc" even better since that's a famous area where a lot of the fish sauce is made). Look for an amber colour and avoid the dark brown coloured fish sauce.
How to marinate pork ribs
Quick, easy ribs you can prepare in the morning and enjoy by the time lunch or dinner rolls around. There really is no trick to prepare the ribs. Quickly mix your marinade, prepare your meat and let the rest of the magic happen in your fridge. Add some sides such as rice and green beans. Bam! You've got yourself a yummy meal!
Using an indoor grill gives you better temperature control for cooking the ribs however, the delicious aroma of ribs on a barbecue is undeniably better. Remember that there is no wrong appliance for cooking ribs. It's versatile enough that you can use an oven, air fryer or even deep fry on the stove if you wish.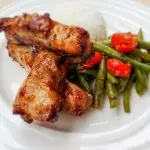 Grilled Pork Ribs with Lemongrass-Garlic Marinade
Succulent and tender pork back ribs! The aroma of grilled lemongrass and garlic is so enticing it will make your mouth-water! Finger-lickin' good!
Print
Pin
Ingredients
6

pounds

(

3

kg

)

pork back ribs (bone-in)

,

(usually 2 rack of ribs)

2

teaspoons

(

4

cloves

)

garlic

,

minced

⅓

cup

(

79

ml

)

lemongrass

,

minced

4

tablespoons

(

59

g

) dark brown sugar

⅓

cup

(

118

ml

) fish sauce

2

cups

(

473

ml

)

apple juice

¼

cup

(

59

ml

)

sake (14.5% alcohol)

,

optional
INSTRUCTIONS
Rinse rib racks under cold water and pat dry with paper towels. Place 1 rack vertically on a cutting board, bone-side up. Use a butter knife or your finger and slide it under the 'silverskin' (white membrane) on one end of the rack. Loosen it a bit until you have enough grip to hold with your fingers (or use a paper towel for more grip) and pull it off the ribs. Do this until all of the silverskin is removed. Repeat for rack #2.

Cut between each rib bone to separate ribs into individual pieces. Place into a large mixing bowl and set aside.

In a medium mixing bowl add garlic, lemongrass, brown sugar, fish sauce, apple juice and sake. Stir to combine and pour into meat bowl. Mix meat with marinade to combine, cover with plastic wrap and refrigerate for 2 hours (or up to 24 hours).

Preheat grill to 350°F. Place ribs meat side down and grill for 10 minutes. Flip ribs over and grill for another 10 minutes. Repeat this step until meat is fully cooked and golden brown. Check rib doneness by inserting a meat thermometer (without touching the bone) and internal temperature reads 195°F (90.6°C).

Serve over a bed of rice with green beans or with your favourite sides.
Nutrition Facts
Grilled Pork Ribs with Lemongrass-Garlic Marinade
Amount per Serving
% Daily Value*
* Percent Daily Values are based on a 2000 calorie diet.